Disney is again in the hot seat regarding Star Wars.
This time it's not about Star Wars: The Last Jedi or Episode IX, but about poster art for the Han Solo movie.
A French artist is claiming that Disney stole his ideas for poster art for the four new Han Solo character posters.
Hachim Bahous posted on Facebook a side-by-side comparison of his art from 2015 next to the new Han Solo posters, where the posters do look pretty similar.
Hachim Bahous posted on Facebook accusing Disney of forgery (translated via Facebook):
Left the official posters of the next Star Wars (Disney), right the compiles for which I made the creation in 2015 for Sony Music France / Legacy Recordings France following the brief of the project leader Romain 'Rpiz' Pizon.
I am flattered that the quality of my work is recognized, but it is still pure and simple forgery, I have not been asked for my permission, I wish to be credited and paid for this work I have done for Sony!
A thought for everyone who worked hard on this very beautiful project: Dj Reverend P (Patrice Larrar), Richard Lecocq, Aurélien Orel, David Hachour, Yazid Manou and Yazid Manou So Romain 'Rpiz' Pizon.
#LegacyOfStarWars
Here is the comparison: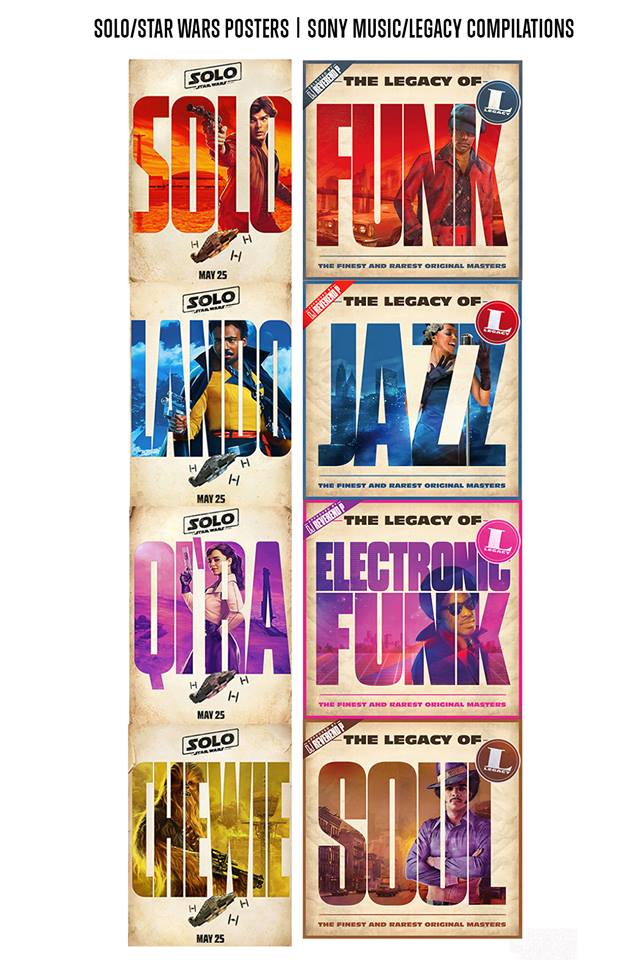 Board the Millennium Falcon and journey to a galaxy far, far away in Solo: A Star Wars Story, an all-new adventure with the most beloved scoundrel in the galaxy. Through a series of daring escapades deep within a dark and dangerous criminal underworld, Han Solo meets his mighty future copilot Chewbacca and encounters the notorious gambler Lando Calrissian, in a journey that will set the course of one of the Star Wars saga's most unlikely heroes.
Solo: A Star Wars Story has a May 25, 2018 release directed by Ron Howard starring Alden Ehrenreich as Han Solo, Donald Glover as Lando Calrissian, Woody Harrelson as Becket, Joonas Suotamo as Chewbacca, with Emilia Clarke, Thandie Newton and Phoebe Waller-Bridge.