As if Disney, Kevin Feige, and the MCU needed any more evidence that Brie Larson's Captain Marvel isn't popular, the character headlining a movie in less than two weeks is missing from the Most Popular Halloween Costumes of 2023.
Of course, that also means Iman Vellani's Ms. Marvel is not on the list as well, which is to be expected. Both characters aren't popular in the comics, in the MCU, on Disney+, in video games, etc.
Google has put together the top Halloween costumes through its interactive Frightgeist costume map. The data is collected from Google Trends and shows the most searched Halloween costumes of 2023.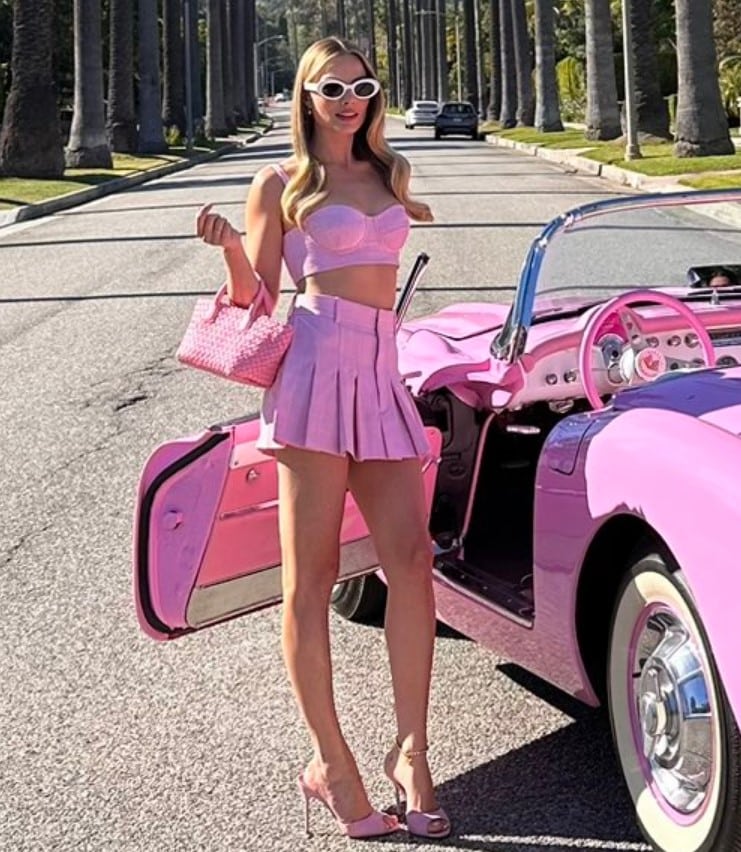 Barbie: The Cream of the Costume Crop!
Interestingly enough, at #1 happens to be Barbie.
The flick debuted in the Summer and has made over a billion dollars at the box office. You know what? I recently saw it and liked it as well! While the trailers and marketing were all about wokeness, watching the film offers a different tune. Barbie is more about free will and choosing your own destiny and against extremisms of all kinds. My only complaint is the dance number was too short!
Up at #2 is Princess. That actually ties into Brie Larson, Captain Marvel, and The Marvels, as there happens to be a scene in the film with "Princess Carol." However, Princess Carol didn't make the list!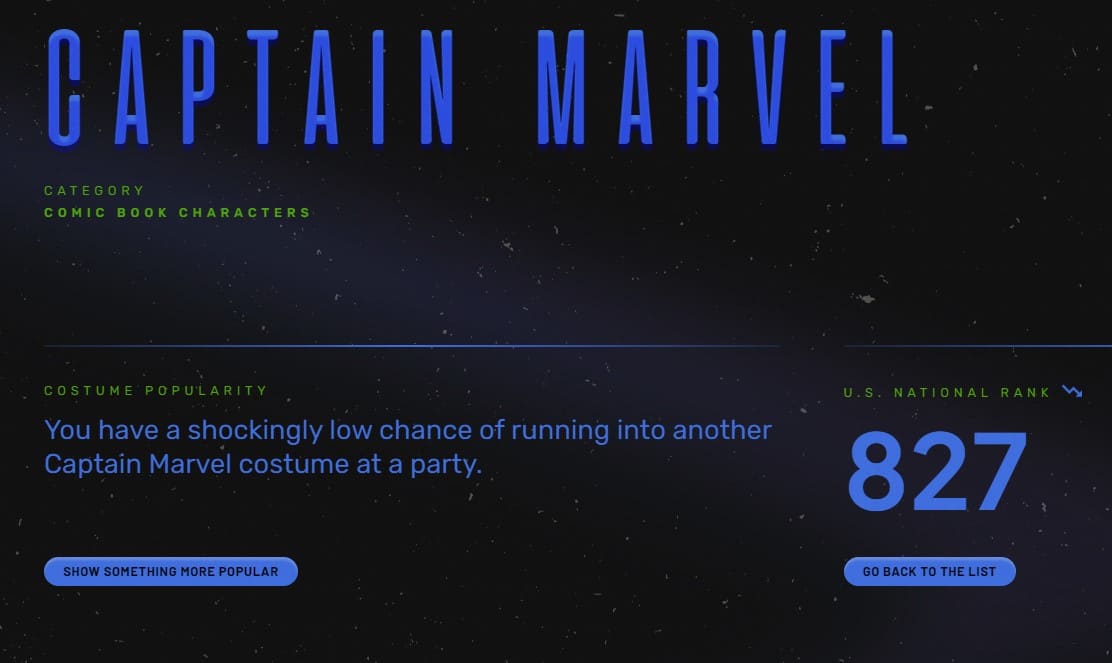 Captain Marvel's Halloween Plunge: From Hero to Zero!
What about Brie Larson and Captain Marvel? It's not on the list and we have to manually search for it. We actually have to go all the way down to #827 to find Captain Marvel!
"You have a shockingly low chance of running into another Captain Marvel costume at a party," says Google.
Frightgiest also shows the locations that a Captain Marvel Halloween costume is most searched which includes Springfield, MO (#1); Richmond-Petersberg, VA; Nashville, TN; Boston MA – Manchester, NH; followed by Washington D.C.
Ms. Marvel? The Halloween costume search results reveal ZERO!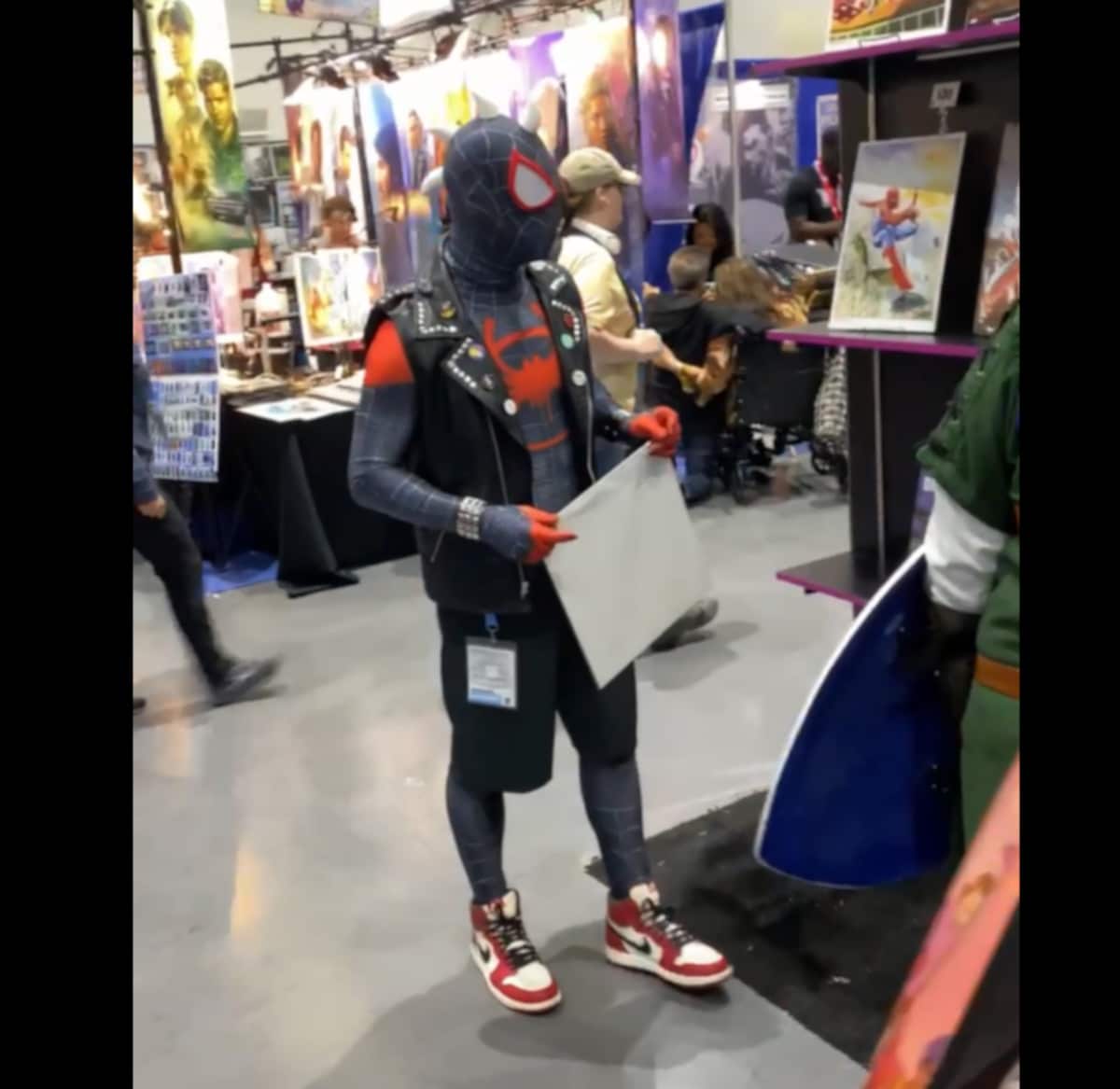 Spider-Man Swings into Third Place
#3? Everyone's favorite friendly neighborhood Spider-Man! You can't go wrong with Spidey and Marvel's Spider-Man 2 video game just came out which certainly created excitement. Me? I'd go as Spider-Punk!
#4 and #5 are more general costumes with a Witch and a Fairy.
#6 seems to be all the rage this year, as over the weekend I saw lots of ladies dressing as Wednesday Addams.
Rounding out the top ten at #7-#10 are also more on the general side including a Dinosour, Cowboy, Ninja, and Bunny.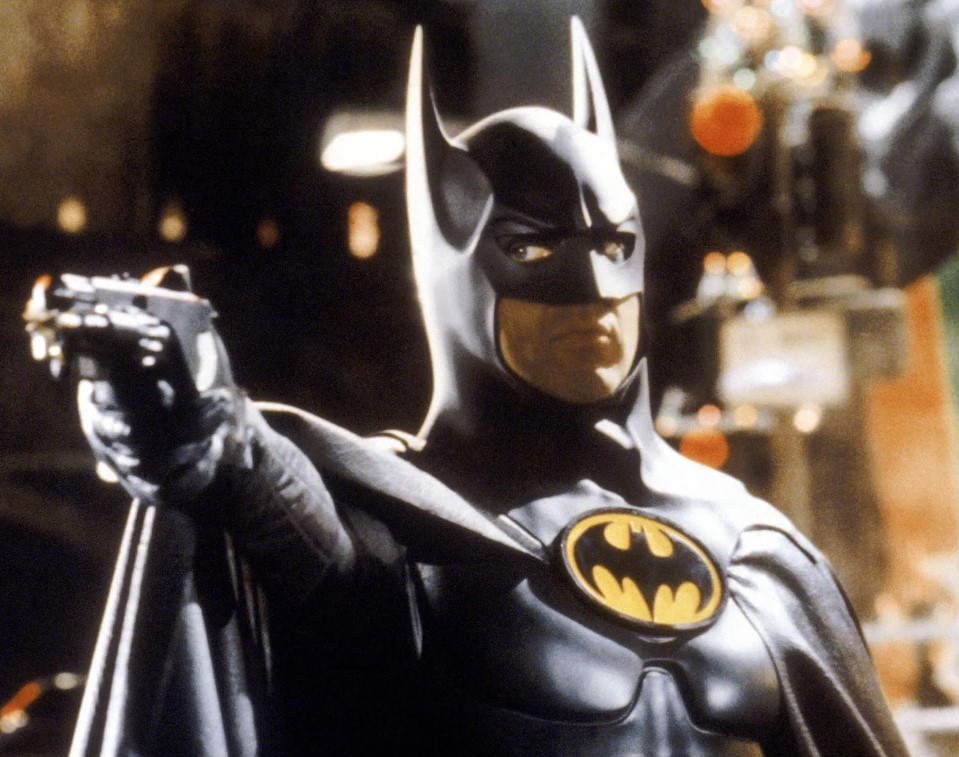 Popular Halloween Costumes standouts
Some others:
Batman at #16; Taylor Swift at #22, Harley Quinn at #23, Star Wars at #29, Chucky at #30, and at #33 is Superhero, but again not Captain Marvel which is at #827.
Joker also comes in at #40, with Catwoman at #43. Darth Vader is #53, Anakin is #54, Poison Ivy at #57, Spider-Gwen even beats Captain Marvel at #76, Ariel from Little Mermaid is at #79, Wonder Woman is at 84.
A favorite of mine – Superman? Wow, #158. Google says, "Looks like Superman is trending down right now."
Recent DC movies? The Flash? Not found. Black Adam? Not found. Hey! Blue Beetle is "trending up" and also beats Brie Larson and Captain Marvel at #463! Shazam? Nada!
Marvel's Deadpool? #217, with Google offering: "Maybe you'll see another Deadpool costume at a party this year, maybe you won't."
Google also adds, "Comic Book Characters make up 9% of al costume searches." Ouch!
The Marvels opens Nov. 10.
(h/t YellowFlash 2 on YouTube who offers: "Girls don't give a SH*T about Captain Marvel! More bad news for The Marvels!")