WB looks to have another disaster on its hands with the new Black Superman, which follows the disasters known as Wonder Woman 1984 and Birds of Prey.
Following today's controversial news that the Black Superman might be a period piece set in the 20th century featuring a race-bended Kal-El from Krypton, "Superman" is now trending on Twitter with fans' reactions pouring in on the social media platform.
The Black Superman is under development from J.J. Abrams (though Abrams is not allowed to direct) and writer Ta-Nehisi Coates.
The "Superman" hashtag is closing in on 100k tweets, with the top tweet from a fan offering the following which has over 1.8k likes and hundreds of comments and retweets. Check out reactions below.
It's also pointed out by a fan, as have many others, that the announcement was released on Henry Cavill's birthday, which is obviously no coincidence.
Black Superman Twitter reactions:
MAN STOOOOP. I DO NOT WANT A BLACK SUPERMAN MOVIE. I REPEAT. I DO NOT WANT A BLACK SUPERMAN MOVIE. STOP TOKENIZING WE HAVE JOHN STEWART HENRY IRONS VICTOR STONE STOP F-CKING TOKENINZING BLACK PEOPLE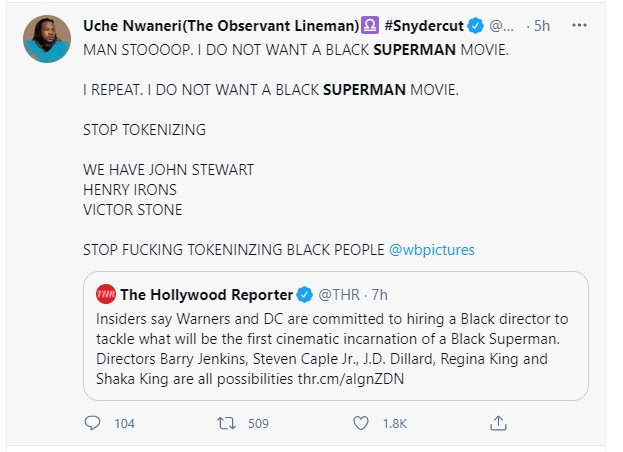 Cavill's been playing the good soldier these last few years in the hopes of playing Superman again, but WB made it public on his birthday that they don't care about him. That man's last hope of playing Superman lies all on the Rock's Black Adam movie being successful.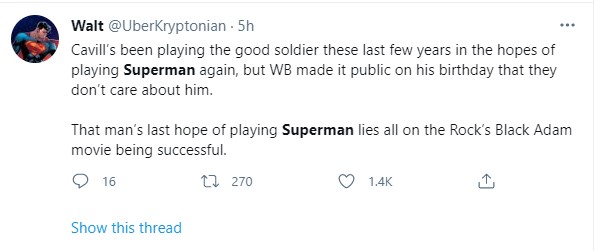 Fans aren't happy that Warner Bros. is seemingly replacing the Christopher Reeve version and/or the version from the comics in favor of a politically correct version:
WB is trying to copy Marvel here too but instead of staying true to the source like Marvel did they are race bending Superman by making Kal-el black when we have Calvin Ellis or Val-zod. Racist mfrs never learn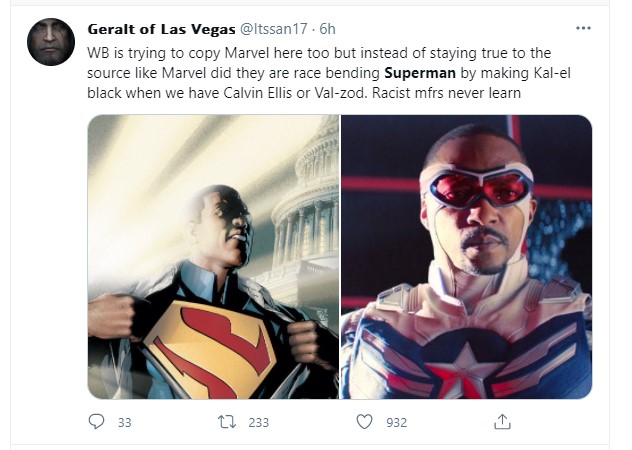 A tweet from a fan with over 1.6 likes offers:
The sad truth is that people would love see a black Superman like Val-Zod on the big screen. Hell, they would love to see a multiverse of Supermen, but not like this. Not with an openly racist studio like WB that chooses PR moves instead of fixing the problem.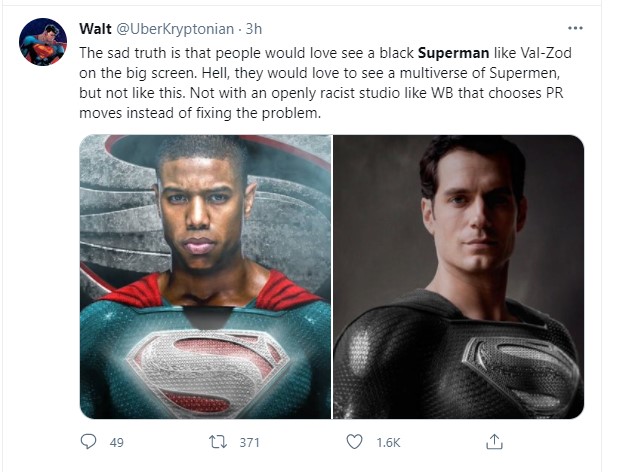 Another account also posted a video featuring Michael B. Jordan responding to questions from Oprah about a Black Superman where Jordan doesn't seem to agree with the idea and would like original concepts:
DC Comics already has a couple of different versions of the Black Superman, but for some reason, they aren't using the characters but want to replace the original version:
Calvin Harris is SUPERMAN AND PRESIDENT OF THE UNITED STATES. Imagine the story that could be told but no, "Here's Black Kal-el."