In honor of today being Superman's birthday, DC and WB have launched Batman Vs. Superman and Wonder Woman stickers that can be used to comment on Facebook.
Henry Cavill shared the news.
You can download the Batman Vs. Superman sticker pack here on Facebook.
Batman vs Superman Facebook stickers: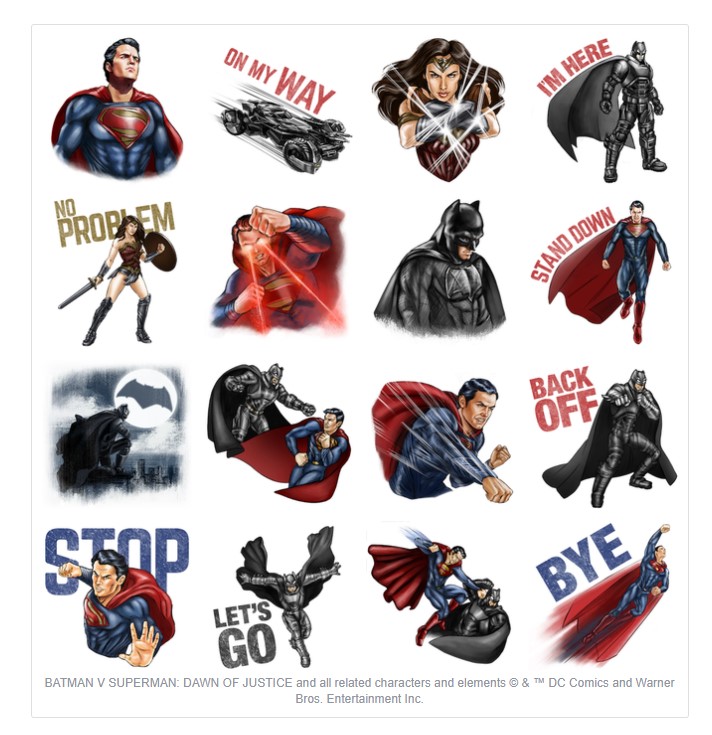 "Batman v Superman: Dawn of Justice" has a March 25, 2016 release starring Ben Affleck as Batman, Henry Cavill as Superman, Gal Gadot as Wonder Woman, Amy Adams as Lois Lane, Laurence Fishburne as Perry White, Diane Lane as Martha Kent, Jeremy Irons as Alfred, Jesse Eisenberg as Lex Luthor, Ray Fisher as Cyborg with Callan Mulvey, Holly Hunter as Senator Finch and Tao Okamoto as Mercy Graves.
Synopsis:
Fearing the actions of a god-like Super Hero left unchecked, Gotham City's own formidable, forceful vigilante takes on Metropolis's most revered, modern-day savior, while the world wrestles with what sort of hero it really needs. And with Batman and Superman at war with one another, a new threat quickly arises, putting mankind in greater danger than it's ever known before.