This is laughable at best.
It's known that Disney is currently running a big time campaign to get the Marvel Studios Black Panther movie nominated for a huge list of Oscars, but now it's also learned at the same time they are also slightly campaigning for The Avengers: Infinity War.
Disney has their "For Your Consideration" promo website set up for the Oscars where they have Black Panther suggested for around 20 categories, plus way more if you include the individual names.
So what about The Avengers: Infinity War?
One.
Yep. Just one! LOL!
Disney has The Avengers: Infinity War "considered" for just the Best Visual Effects Oscar, which they also have Black Panther listed for (again laughable at best).
Black Panther was an average movie at best and its visual effects were even worse, but to suggest it's better in any way than Avengers: Infinity War is again really laughable.
So in essence, Disney thinks Black Panther deserves a Best Picture nod over The Avengers: Infinity War (as that is what Disney and Marvel are really after)?
We also see Disney is basically downplaying Infinity War so as to not compete with Black Panther for the Oscars nominations.
If I was the Russo brothers, I would be insulted (lol). Wow.
The Academy even created a special category this year for Black Panther with Most Popular, but as a result of backlash, they decided to scrap it.
It will be interesting to see if the Academy caves to Disney.
Here are the Black Panther "for your consideration" Oscar categories: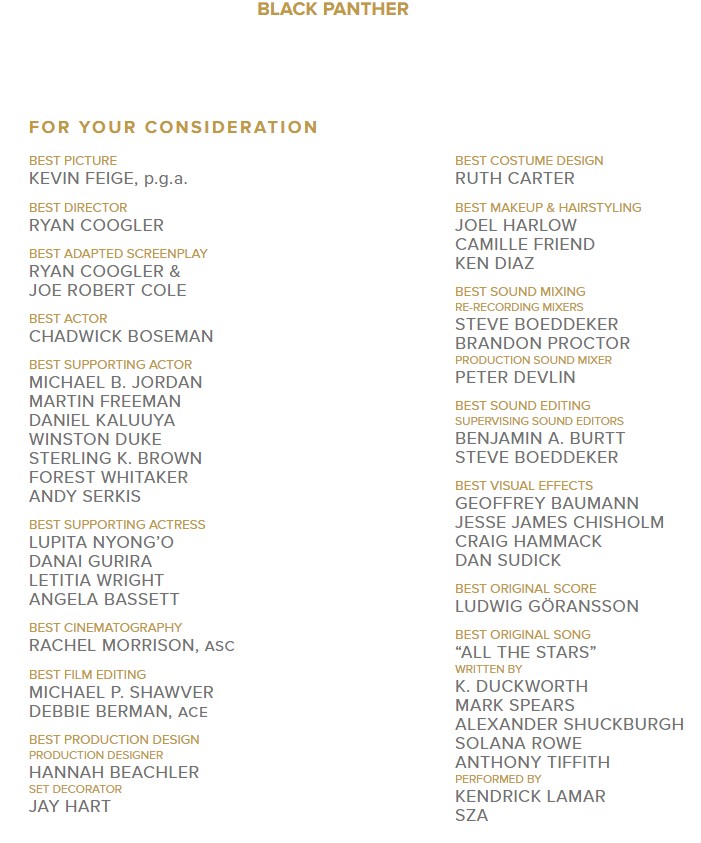 Of course, Disney couldn't leave out Infinity War, so it gets at least one consideration: