Karen Gillan and Nebula have survived the wrath of the Great Titan in Infinity War, and now the actress takes to Instagram to tease The Avengers 4 reshoots.
"You know what this means… Nebula has some unfinished business with Daddio. Reshoots!" Karen Gillan posted on her Instagram story.
Update: Karen Gillan also teased Pom Klementieff as Mantis.
Infinity War was a rough ride for Nebula as not only was she captured and tortured by her adoptive father, Thanos, but her sister Gamora was murdered by the same hands. Last we saw of Nebula was on the planet Titan along with Tony Stark, as they survived the Snappening. The same can't be said for half of the universe, as most of the Avengers and the Guardians of the Galaxy died, including Star-Lord, Drax, Groot, Spider-Man, Doctor Strange, Black Panther, Winter Soldier and more.
It's thought Nebula will be heading to Earth in The Avengers 4 along with Tony Stark in what appears to be some sort of last ditch effort to stop Thanos and save the universe.
Leaked The Avengers 4 art offers our first look at Karen Gillan as Nebula. See below!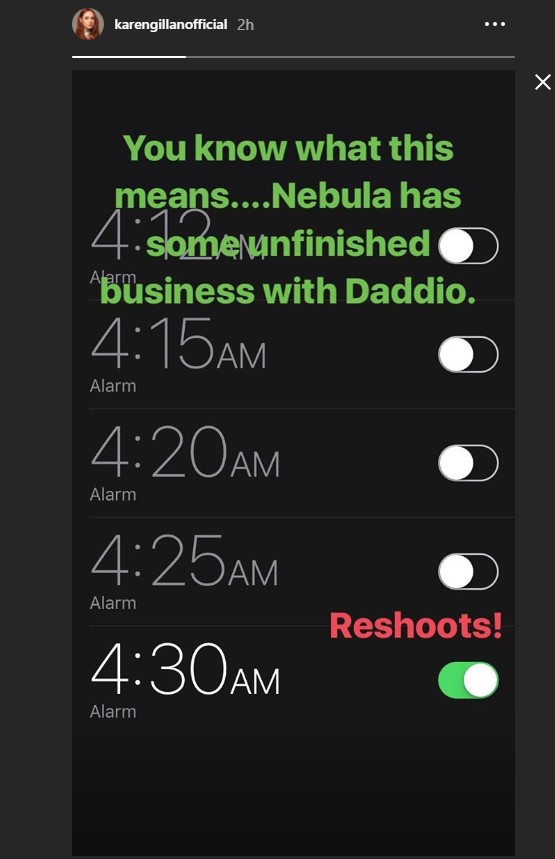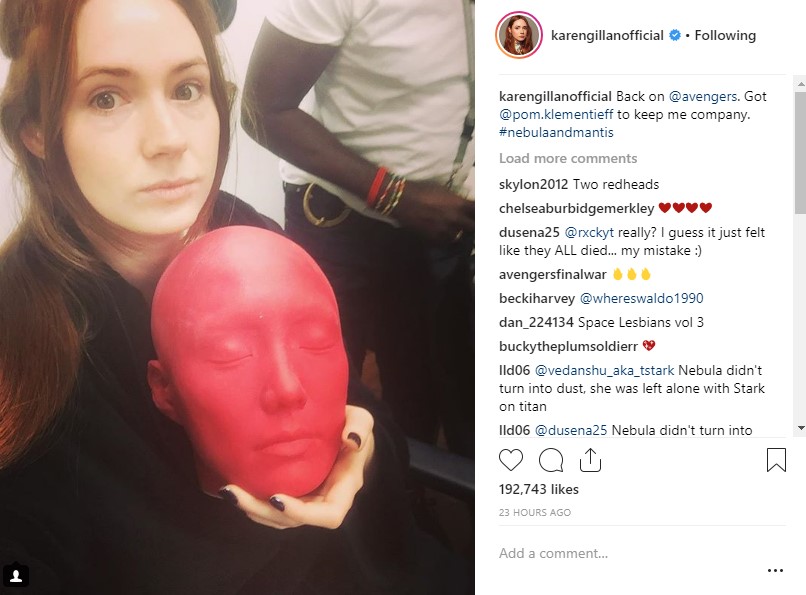 The Avengers 4 has a May 3, 2019 release directed by Joe and Anthony Russo and stars Robert Downey Jr., Josh Brolin, Chris Evans, Chris Hemsworth, Scarlett Johansson, Mark Ruffalo, Jeremy Renner, Karen Gillan, Bradley Cooper, Chris Pratt, Zoe Saldana, Dave Bautista, Tom Holland, Benedict Cumberbatch, Paul Rudd, Evangeline Lilly, Sebastian Stan, Chadwick Boseman, Don Cheadle, Danai Gurira, Letitia Wright and Brie Larson.
The movie is a sequel to Infinity War where the Great Titan left the universe in shambles by killing off half the population including the Avengers with use of the Infinity Stones and Infinity Gauntlet. Now Marvel's super heroes must suit up perhaps one last time to make things right by taking down Thanos once and for all.