It's once again being rumored that Apple might be interested in buying Disney, as the stock market continues to crash due to the coronavirus offering much lower prices than just a month ago.
Disney Stock is currently over 36% cheaper to purchase than it was a month ago, as the company has been forced to shut down its theme parks, cancel movie releases, stop production on films and TV shows, and there is also the fact all major league sports are on hold which affects ESPN.
Apple stock is down too, but not as much in a month, as it only dropped around 26%.
The bigger factor is that Apple is simply a much larger company than Disney, as Apple's market cap is at a whopping $964.88 billion compared to Disney's $152.16 billion.
The speculation and rumor about Apple potentially buying Disney comes from an article at Barrons who offers:
The theory that Apple might someday make an offer for Walt Disney has been around for years. And now the idea has resurfaced.
The article points out this isn't the first time the notion of Apple purchasing Disney has come about, as back in 2006 after Disney acquired Pixar, Apple CEO Steve Jobs became the largest shareholder in Disney, leading to speculation of a merger back then.
The article further points out that outgoing Disney CEO Bob Iger says in his new book that the merger probably would have happened if Steve Jobs didn't die in 2011.
So with the problems surrounding the coronavirus, the idea has resurfaced that Apple could buy Disney, as it's mentioned Apple is still a healthy company with its $98 billion in net cash reserves which would enable Apple to buy Disney "at the current fire-sale price."
Rosenblatt Securities analyst Bernie McTernan offers reasons why he thinks it could happen which includes that the market is down, that Iger is leaving Disney, and a big factor is that Disney Plus looks to be a big success, while Apple TV Plus seems to be off to a slow start.
The article does make note McTernan's thoughts are pure speculation.
What's rather interesting about the thought is that back in September saw it stated the deal over Spider-Man returning to the MCU between Sony and Disney was on hold because of Apple, or a company like Amazon, interested in scooping up Sony Pictures. It has been reported a company like Apple has been seeking to acquire its own movie studio, and obviously, if Apple purchased Disney, Apple would have its own studio immediately and wouldn't need to expensively create one from the ground up.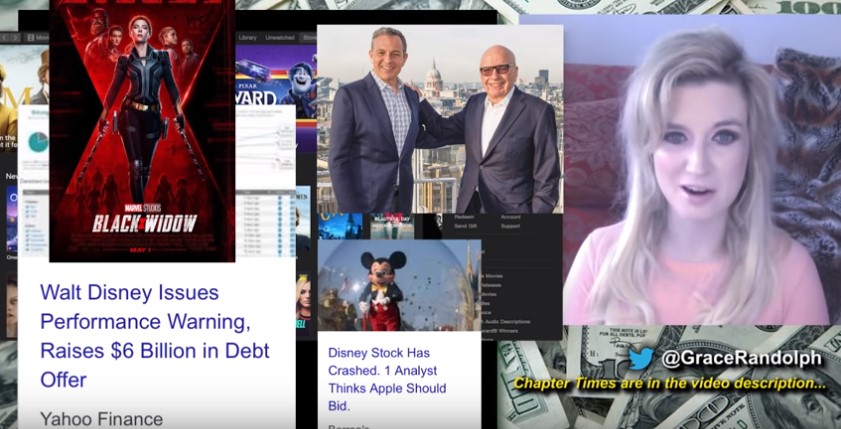 YouTuber Grace Randolph thinks Apple purchase of Disney possible
YouTuber Grace Randolph also brings up the point that recently saw Disney merge with 20th Century Fox, so Apple purchasing Disney (not a merger, but a straight-up purchase) wouldn't be unheard of.
Randolph further covers how Disney recently issued a performance warning, as it hasn't recovered from its Fox acquisition (Disney has lost millions on movies such as X-Men: Dark Phoenix), and that in a matter of days a large part of its revenue has been cut off (movies, theme parks, sports), again due to the coronavirus.
The YouTuber also points out how the recent VOD release of Disney's Onward shot up to the charts on Apple, taking the #1 spot.
We can guess Onward and other Disney movies topping the charts is something Apple surely is aware of, and if things continue the way they do or evolve into a new system where movie theaters are somehow taken out of the equation, Apple is probably salivating at the idea of a match made in the digital realm between them and Disney (again Apple has no movie studio).
If Disney ever did get sold, that would mean Marvel and Star Wars go with it.
As a result of the coronavirus, Disney has put the release of Black Widow on indefinite hold in addition to New Mutants, Mulan and Antlers. Filming on Shang-Chi has also stopped in Australia, reportedly costing the company a massive $300,000 a day, and production on its Disney Plus TV shows has been halted including The Falcon and the Winter Soldier, WandaVision and Loki.