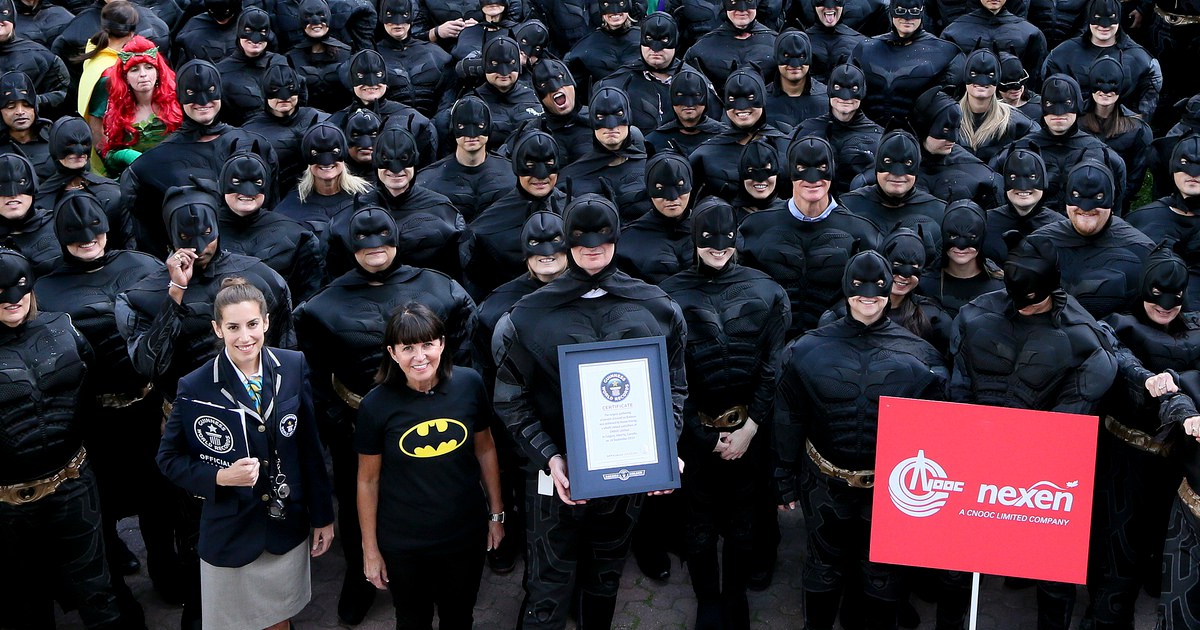 Guinness World Records sent over the following information in celebration of the new Batman Vs. Superman movie, which features various records pertaining to Batman and Superman.
Below you can also check out a batch of photos.
Batman v Superman: Dawn of Justice opens March 25th.
Batman
• Most voiceovers as Batman- Kevin Conroy has voiced the character of Batman at least 123 times across multiple animated series and videogames as of July 8, 2014.
• Most screen appearances as Batman- Adam West has made 156 individual screen appearances as Batman, including 120 episodes of the 1966-68 Batman TV series and its accompanying feature film, numerous voiceover performances for animated series and TV movies, and the computer generated video short 'Batman: New Times' in 2005.
• Largest gathering of people dressed as Batman- The largest gathering of people dressed as Batman is 542 and was achieved by Nexen Energy, a wholly owned subsidiary of CNOOC Limited, in Calgary, Alberta, Canada, on September 18, 2014
• Most expensive Batman memorabilia sold at auction- A Batmobile used in the 1960s Batman TV show sold at the Barrett-Jackson car auction in Scottdale, Arizona, on January 19, 2013 for a record $4,620,000 inclusive of the seller's premium. • Best-selling superhero videogame- According to Vcharts, LEGO Batman: The Videogame (Traveller's Tales, 2008) is the best-selling videogame based on a superhero, selling 13.1 million copies, as of March 5, 2015, according to VGChartz.
Superman
• Largest gathering of people dressed as Superman- The largest gathering of people dressed as Superman was 867, achieved by Escapade at Kendal Calling in Lowther Deer Park, Cumbria, UK, on 27 July 27, 2013.
• First published superhero to feature in a videogame- Superman, became the first superhero to feature in a videogame with Superman (Atari, 1979), designed for the Atari 2600.
• First superhero on television- Superman was the first comic-book super hero to appear in his own television series. The Adventures of Superman (syndication, 1952) starred George Reeves as the Man of Steel and was sponsored by Kelloggs
• Most portrayed superhero on television- The character of Superman has featured in four live-action TV series and been played by five different US actors: George Reeves (The Adventures of Superman, syndicated 1951–57); John Haymes Newton and Gerard Christopher (Superboy, syndicated 1988–91); Dean Cain (Lois & Clark: The New Adventures of Superman, ABC 1993–97); and Tom Welling (Smallville, Warner Bros., later CW, 2001–present). A sixth actor, Johnny Rockwell (USA), played the character in The Adventures of Superboy (1961), an untransmitted pilot for an unrealized series. The characters of Superman and Batman have also appeared in numerous cinema serials and animated TV series over the years.
• First superhero with superpowers- The first comicbook superhero with superpowers was Superman, created by writer Jerry Siegel (USA) and artist Joe Shuster (Canada/USA) and first published in Action Comics #1 in April 18, 1938 (but dated "June" on the cover). Prior to Superman, comic-strip or -book heroes had extreme strength (Popeye, Conan the Barbarian) or heightened psychic abilities (Mandrake the Magician, Doctor Occult) or were regular humans with notable intelligence or cunning (The Phantom, The Clock, and action heroes such as Flash Gordon, Buck Rogers and Dick Tracy). Superman made his comics debut with out-of-this-world abilities that left him invulnerable to knives and allowed him to run faster than an express train and leap tall buildings in a single bound; in later issues, he demonstrated heightened senses (including X-ray vision), super strength and the ability to fly.
Read More

about Guinness World Records Celebrates Batman Vs. Superman