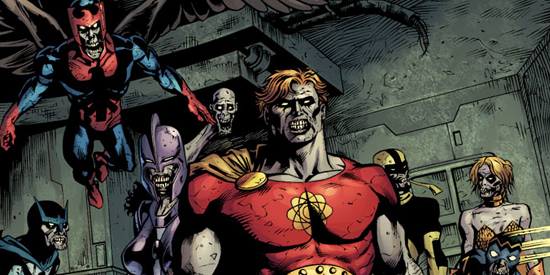 The Midtown Comics Blog has some preview pages from the upcoming Marvel Zombies Supreme #1 that hits in March.
Hey, Ma and Pa Kent – it's chomping time!
Looks good!
MARVEL ZOMBIES SUPREME #1 (OF 5)
MARVEL COMICS Written by Frank Marraffino
Pencils by Fernando Blanco
Cover by Michael Komarck
Issue One Variant Cover by Arthur Suydam
A HUNGER SUPREME!
They were the Squadron Supreme, heroes exiled from another dimension to our own…but the twisted science of the Project Pegasus facility infected these defenders with a virulent zombie strain. Now it's up to Jill Harper's desperate special ops team to keep the plague contained within the facility-whatever the cost. But Harper discovers that the Squadron wasn't the only unconscionable experiment being kept off the Pegasus records…and her shocking find may be the key to saving the human race. Join Frank Marrafino (Haunted Tank) and Fernando Blanco (MARVEL ZOMBIES 5, THUNDERBOLTS) as the bodies and unpredictable resurrections climax in the most gore-soaked chapter of the Marvel Zombies saga yet!