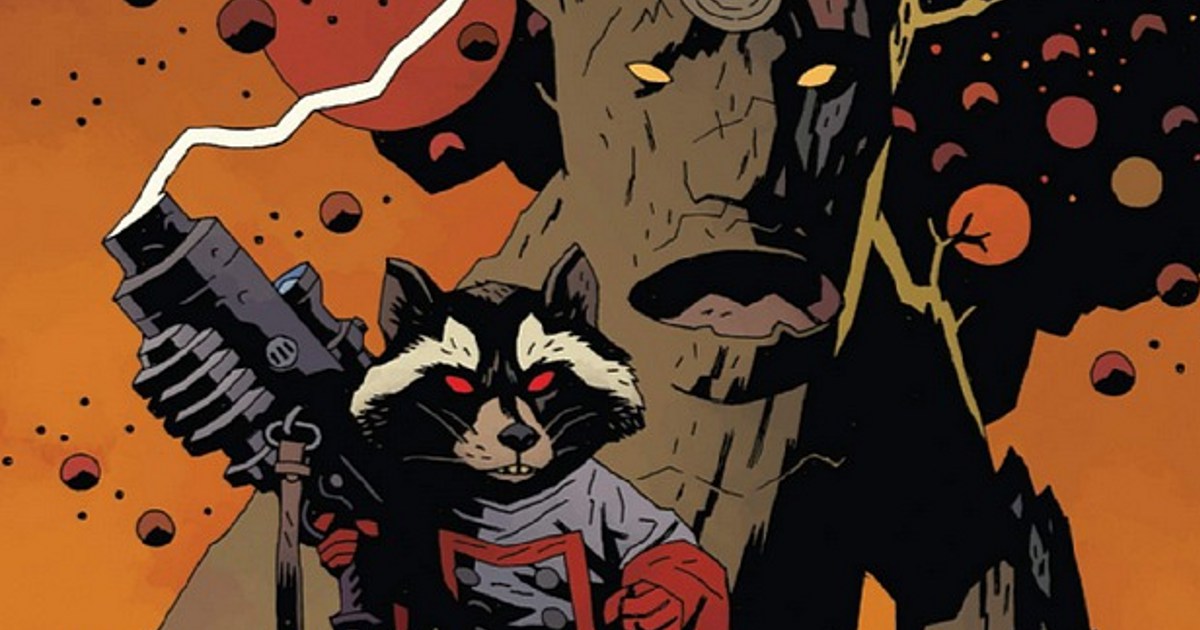 Last week, we learned not only what was next for Marvel Cosmic after The Thanos Imperative: Devastation hits this January – The Annihilators – but also as to the fate of the Rocket and Groot mini.
The two will be released this March in a double-sized issue priced at $4.99.
I have to say upon learning the price, I was not too happy.
Don't get me wrong, as a Marvel Cosmic fan, this is going to be an awesome issue and it is a deal at over 40 pages. However, my gripe is the fact that this pairs a title that arguably is not going to be a big seller with something that might have been, or at least on its own would have sold more.
Per VP Tom Brevoort's comments at the latest T&A, the reason for not putting them out on their own is due to a soft market. He goes on to say if the fans come out to support it, this will get Marvel thinking about further cosmic projects.
My argument to this would be pairing them together is not a good indication for the future of Marvel Cosmic at all. Readers that just want The Annihilators won't pick it up at $4.99 or be slightly less inclined at that price. I would think pricing The Annihilators at $2.99 and putting it out on its own would have made more sense – and been more of a reliable indicator as to fans reaction and incentive for further cosmic projects by Marvel.
I have been hearing fans ask what's next with this cosmic character or title, with Marvel responding we will see how The Annihilators is received. Well, it is just not The Annihilators – is it? If this doesn't sell as Marvel wants it to, I can see the response from them being – the fans are not supporting it.
I just can't agree with the notion that combining and selling this at a higher price is an indication as to what fans want. Fans have been complaining about the price of comics for a while. DC just announced lower price points and, at least I think, Marvel did (sort of). To combine the books at a higher price, but overall a better value, isn't the best choice in my opinion.
Seems to me, Marvel is banking on the success of the recent mini, The Thanos Imperative, that saw numbers better than the two recently canceled cosmic titles Nova and Guardians of the Galaxy – and better than the current cosmic event, Chaos War. Are they hoping that readers of TI who came out and supported their Cosmic Avengers will continue doing so – now at a higher price? For titles on the cancellation threshold, to experiment this way seems a gamble.
Let's be honest; when Tom was talking about a "soft market" he was referring to Rocket and Groot. I love Rocket and Groot – I really do, but I knew from the get-go this wasn't going to be a huge seller. To be honest, I do feel there is a strong possibility that it could hold back the Cosmic Avengers. To hear Marvel state that this is going to tell them where to go next – just isn't right.
Of course, I could be wrong. This could sell just as well as TI. A new Nova (Antiquus?) could be on the way, and we'll be happy Marvel Cosmic readers. I certainly hope I am wrong.
While we are on the topic of "indication" – on Tuesday, Marvel will be holding a press conference in regards to the next Big Event. Will Marvel Cosmic be along for the ride? I fear not.