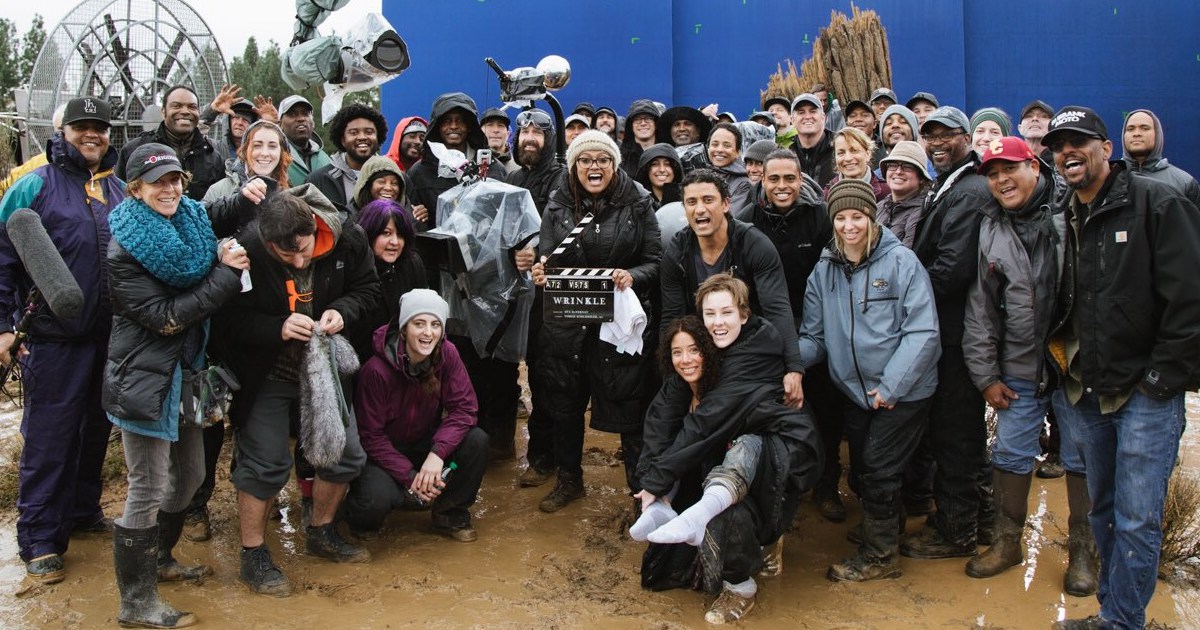 Director Ava DuVernay has taken to Twitter to reveal a first look at the A Wrinkle In Time movie, which is based on the Madeleine L'Engle novel.
A Wrinkle in Time has an April 6, 2018 release date and stars Storm Reid as Meg Murry, Oprah Winfrey as Mrs. Which, Reese Witherspoon as Mrs. Whatsit, Mindy Kaling as Mrs. Who, Chris Pine as Mr. Murry, Gugu Mbatha-Raw as Mrs. Murry, Zach Galifianakis as The Happy Medium, André Holland as Principal Jenkins, Levi Miller as Calvin, Deric McCabe as Charles Wallace, and Bellamy Young, Rowan Blanchard, and Will McCormack.
The book is described on Amazon as:
It was a dark and stormy night; Meg Murry, her small brother Charles Wallace, and her mother had come down to the kitchen for a midnight snack when they were upset by the arrival of a most disturbing stranger.

"Wild nights are my glory," the unearthly stranger told them. "I just got caught in a downdraft and blown off course. Let me sit down for a moment, and then I'll be on my way. Speaking of ways, by the way, there is such a thing as a tesseract."

A tesseract (in case the reader doesn't know) is a wrinkle in time. To tell more would rob the reader of the enjoyment of Miss L'Engle's unusual book. A Wrinkle in Time, winner of the Newbery Medal in 1963, is the story of the adventures in space and time of Meg, Charles Wallace, and Calvin O'Keefe (athlete, student, and one of the most popular boys in high school). They are in search of Meg's father, a scientist who disappeared while engaged in secret work for the government on the tesseract problem.

A Wrinkle in Time is the winner of the 1963 Newbery Medal.
WRINKLE IN TIME. In theaters. April 6, 2018. pic.twitter.com/8CQ9o1BAgR

— Ava DuVernay (@ava) March 12, 2017
Thanks to the truly beautiful crew of WRINKLE IN TIME and our studio for standing with me every step of the way. Extraordinary experience. pic.twitter.com/1Zyxg39fgO

— Ava DuVernay (@ava) March 12, 2017
That's a wrap on @Oprah for WRINKLE! Gosh, we had fun. My great friend. Her role as MRS. WHICH is literally out of this world. Thanks, OW. pic.twitter.com/dk1KuGyw1F

— Ava DuVernay (@ava) March 12, 2017
That's a wrap on @RWitherspoon! She blew me away everyday with her tremendous talent. But more than that, w/ her kindness. Thanks, Reese! pic.twitter.com/BPCsvoOdKJ

— Ava DuVernay (@ava) March 12, 2017
That's a wrap on @LeviZaneMiller for WRINKLE IN TIME. Our leading man. An actor with great power. And a gentleman already. Thanks, Levi! pic.twitter.com/UJNW99yeRq

— Ava DuVernay (@ava) March 12, 2017
That's a wrap on @MindyKaling! She was the very first WRINKLE casting idea I had. So grateful she said yes! Thanks, Mindy! Love to you! pic.twitter.com/RoCIQukc2G

— Ava DuVernay (@ava) March 12, 2017
That's a wrap on our golden boy and incredible discovery @DericMccabe. This child has a spirit like no one else. You'll see. Thanks, D! pic.twitter.com/B07BHtt2zN

— Ava DuVernay (@ava) March 12, 2017
That's a WRINKLE IN TIME wrap on #AndreHolland. A dream of an actor and a man. Thanks, Dre. pic.twitter.com/wPXxC2cSDi

— Ava DuVernay (@ava) March 12, 2017
That's a wrap on @RowanBlanchard! She joined us for a few days and made a big impression. She's a real artist with a voice. Thanks, Rowan. pic.twitter.com/rr00XTiV5c

— Ava DuVernay (@ava) March 12, 2017
Principal photography for WRINKLE IN TIME wrapped last night! An epic adventure. I loved each and every minute. xo! pic.twitter.com/D3z5J6KBIz

— Ava DuVernay (@ava) March 12, 2017