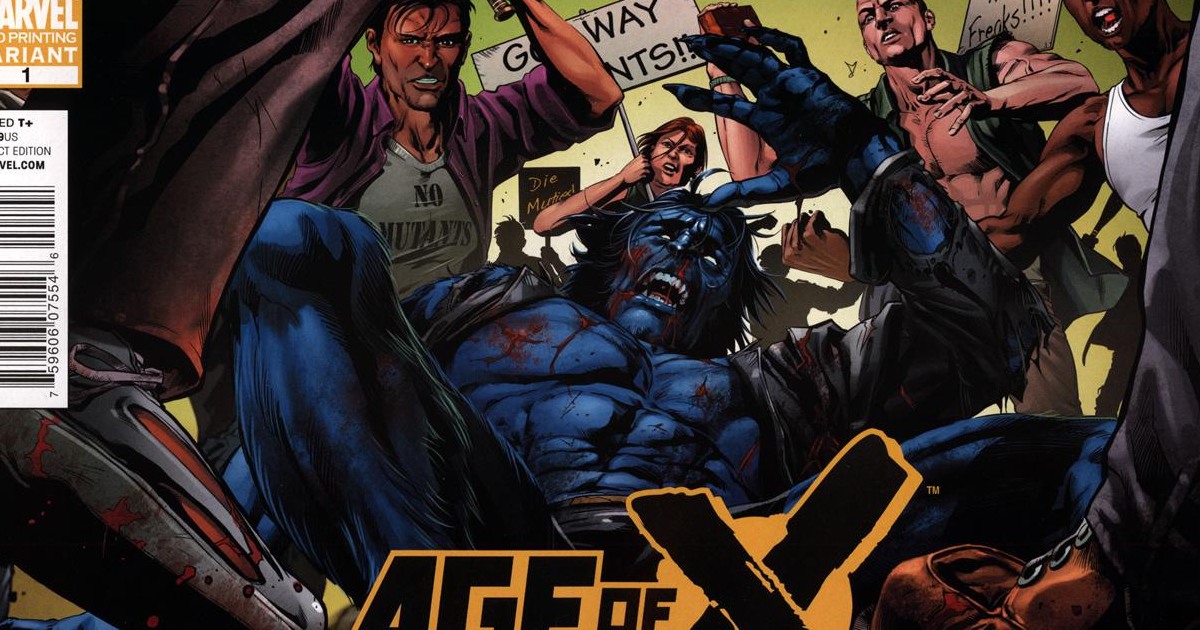 Congrats to our very own expert street-level reviewer, and good friend of mine, Chris Bushley, for another quote in a Marvel press release.
Head on over here to read Chris Bushley's full review for Age of X: Alpha #1!
Great job, DOC!
Press Release
AGE OF X is a SMASH HIT!
Its official – Age Of X is a hit! After an instant sell out at Diamond (though copies may still be available at retail), the opening salvo in mutantkind's war for survival returns with two second printing variants! Featuring the stunning interior art of the first issue Age Of X: Alpha AOX Second Printing Variant #1 showcases the highlights of events happening in the issue while Age Of X: Alpha Conrad Second Printing Variant #1 brings a piece of Age of X history to the fans with art by Wil Conrad! Fans can't miss how it all began as the second printing hits comic shops the same day as X-Men: Legacy #245 and New Mutants #22, the first two chapters of Age Of X! Find what cruel fates have befallen the Children of the Atom in a world where almost all mutants have purged…and the few that remain spend their days hated, feared and hunted.
Fans and critics agree, they love Age Of X!
"…this is a solid start to Age of X" – Jesse Schedeen, IGN.com
"It's a smart move to give readers a book like this" – Chad Nevett, ComicBookResources.com
"All X fans should check out this book." – Chris Bushley, CosmicBookNews.com
Who are these unlikely survivors and do they have what it takes to stay alive? Discover the shocking foundations of this exciting X-epic in Age Of X: Alpha Second Printing Variant #1!
Due to the red-hot success of Age of X Alpha, Marvel urges retailers to check their orders on all upcoming issues of X-Men Legacy and New Mutants as the story is poised to change what you thought you knew about the X-Men. In order to ensure copies of Age Of X: Alpha Second Printing Variant #1 are available in time for the first two chapters, they will be printed before the FOC and retailers should place their orders as soon as possible since quantities will be available on a first come first serve basis.
AGE OF X: PROLOGUE
AGE OF X: ALPHA AOX SECOND PRINTING VARIANT (DEC108148)
AGE OF X: ALPHA CONRAD SECOND PRINTING VARIANT (DEC108154)
Written by MIKE CAREY
Pencils by MIRCO PIERFEDERICI, PAUL DAVIDSON, GABRIEL HERNANDEZ WALTA, HARVEY TOLIBAO & CARLO BARBERI
AOX Variant by VARIOUS
Conrad Variant by WIL CONRAD
Rated A…$3.99
FOC – 2/7/11, On-Sale 2/23/11
AGE OF X: CHAPTER ONE
X-MEN: LEGACY #245 (DEC100623)
X-MEN: LEGACY #245 MANN VARIANT (SEP108209)
X-MEN: LEGACY #245 FF ANNIVERSARY VARIANT (DEC100541)
Written by MIKE CAREY
Pencils by CLAY MANN
Cover by LEINIL YU
Variant Cover by CLAY MANN
Fantastic Four Anniversary Variant by PAOLO RIVERA
Rated A…..$2.99
FOC – 1/31/11, On-Sale 2/23/11
AGE OF X: CHAPTER TWO
NEW MUTANTS #22 (DEC100624)
NEW MUTANTS #22 MANN VARIANT (SEP108210)
Written by MIKE CAREY
Pencils by STEVE KURTH
Cover by MICO SUAYAN
Variant Cover by CLAY MANN
Rated T+…..$2.99
FOC – 1/31/11, On-Sale 2/23/11