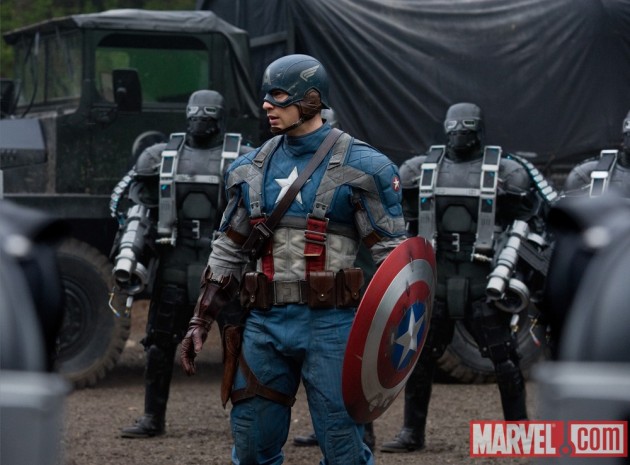 ComicBookMovie briefly spoke with Director Joe Johnston on the Captain America: First Avenger Superbowl trailer set to debut on February 6th, 2011.
Johnston comments on Marvel allowing him to do whatever he wants with the action scenes, and compares Captain America: First Avenger to Raiders of the Lost Ark with:
"The story of Steve Rogers is the only "super hero" movie I ever really wanted to do, because of who he is…basically Everyman. The creative team on Captain America also wanted to prove that a period action movie can still work just as well as a modern day or futuristic one. I forget I'm watching a period film when I watch Raiders of the Lost Ark, and I think the same will be true of this picture. To Marvel's credit, they have never said no to any of the action sequences, and several of them are pretty spectacular…and most importantly they service a solid story."
The Director then goes on to comment on the Captain America: First Avenger Superbowl trailer:
"It IS the world's first look at the film, but at some point you have to put that pressure aside and just concentrate on making it the best Super Bowl spot it can be. The challenge is really what to leave in and what to leave out when you only have 30 seconds, and the marketing people at Paramount have done a stellar job of finding that balance. I think it will give the world just the right taste of what the film is without giving away too much. You will definitely get a sense of how rich the imagery is and how intense the action, and it will whet your appetite for the two and a half minute trailer coming soon."
There you have it! A 30 second first look will be coming up at Superbowl XLV, with the full trailer soon!
Captain America: First Avenger hits theaters July 22nd, 2011 starring Chris Evans as Steve Rogers/Captain America and Hugo Weaving as his arch-enemy — Johann Schmidt, the Red Skull.
Synopsis:
Born during the Great Depression, Steve Rogers grew up a frail youth in a poor family. Horrified by the newsreel footage of the Nazis in Europe, Rogers was inspired to enlist in the army. However, because of his frailty and sickness, he was rejected. Overhearing the boy's earnest plea, General Chester Phillips offered Rogers the opportunity to take part in a special experiment… Operation: Rebirth. After weeks of tests, Rogers was at last administered the Super-Solider Serum and bombarded by 'vita-rays.' Steve Rogers emerged from the treatment with a body as perfect as a body can be and still be human. Rogers was then put through an intensive physical and tactical training program. Three months later, he was given his first assignment as Captain America. Armed with his indestructible shield and battle savvy, Captain America has continued his war against evil both as a sentinel of liberty and as leader of the Avengers.